NEW YORK (CNNMoney) — Google isn't Facebook. There. We got that out of the way. Now let's move on.
For much of this year, many investors penalized the search king because it was no longer the cool kid on the tech block.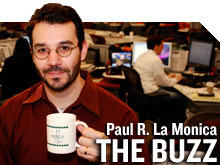 Although Google finally unveiled a social network meant to meaningfully take on THE social network — with all due respect to Brazil, Orkut doesn't count — Google+ failed to convince skeptical investors that Google could supplant Facebook.
It didn't help matters that widely respected Google (GOOG, Fortune 500) chairman Eric Schmidt handed the CEO duties over to co-founder Larry Page.
While nobody doubted Page's geek cred, it was not clear if he had the chops to be a CEO. Just look at how disastrous the brief tenure of Jerry Yang was at Yahoo (YHOO, Fortune 500).
Shares of Google tumbled nearly 25% from the day the Schmidt-to-Page transition was announced in late January through late June.
But then a funny thing happened. People suddenly remembered that Google is still a growth stock, even if more people continue to "like" instead of "+1" stuff.
Google's stock is now slightly higher than where it was in late January. Shares are up 6% year-to-date, and they're less than 2% below their 52-week high.
But where will Google head from here? Can the stock get back to its all-time high, reached just before the start of the Great Recession, anytime soon?
I wouldn't bet against it. Sure, shares still have a way to go .They remain 15% below the Boeing-esque peak of $747.24 from November 2007. But the stock is extremely attractive given its growth prospects.
Google trades for only 14 times 2012 earnings estimates, even though analysts expect profits to rise nearly 20% next year. And those forecasts may be too low.
After a slight stumble in April, where Google missed expectations by two cents, Google has topped consensus projections by more than 10% in the past two quarters.
Simply put, there is a lot to like about Google in just the core search business.
"There are those who believe that Facebook and other social networking sites will take eyeballs away and undermine Google. I think people go to Facebook to socialize, not to buy or search for things," said Michael Pytosh, senior portfolio manager with the ING Growth and Income Fund (IAGVX) in New York. "When people want to find something they will continue to go to Google."
Pytosh, who said that Google is one of the five biggest holdings in the fund, makes a great point. Facebook has a lot of potential. And some day (perhaps soon, if you believe the rumors) we may actually have an IPO filing to comb through to see just how much revenue the company generates and if it is really profitable.
But despite all the hype about Facebook, Google continues to do just fine from search. Google generated revenue of $9.7 billion in its latest quarter ($7.5 billion after subtracting ad revenue that it shares with partners) and earned a profit of $2.7 billion. The company has $42.6 billion in cash.
That financial strength allows Google to make bold moves such as its $12.5 billion offer for Motorola Mobility (MMI), a purchase that will bulk up Google's growing Android mobile business by giving Google some valuable intellectual property.
"Given the large sums of cash Google has on hand, I think it can grow organically as well as through smart acquisitions," said Oliver Pursche, co-manager of the GMG Defensive Beta Fund (MPDAX) in Suffern, N.Y.
That is crucial.
"Tech is an area that's subject to rapid growth and investors can be unforgiving. You have to stay at the forefront," Pursche said.
At the same time, Google has started to rein in some of its initiatives that didn't make as much strategic sense. That's won raves from investors who had been wary of Page at first.
In the past few months, Google has killed off its Buzz messaging tool, Knol (Google's failed answer to Wikipedia) and its renewable energy project, to name a few.
"Page has been a nice surprise. He's brought more of a focus. They've shut down some projects that investors were skeptical of. The core business is working," said Jim Tierney, chief investment officer with W.P. Stewart & Co. in New York. His firm owns Google in several funds.
Of course, Google is not without risks. You can look no further than Cisco (CSCO, Fortune 500) and HP (HPQ, Fortune 500) to see how acquisitions can go awry. And Netflix (NFLX) and Research in Motion (RIMM) are perfect examples of companies that have lost their way in the dynamic world of tech.
But I don't get the sense that Google is going to make similar mistakes.
So investors could continue to pine for the eventual IPO of Mark Zuckerberg's company. They can take a stab with Groupon (GRPN), LinkedIn (LNKD) or the numerous other unprofitable or barely profitable social media firms out there that are supposed to be the future of tech.
Or they could buy a company that's already at the forefront of most of the hottest trends in tech, is making gobs of money, and trades at a reasonable valuation.
Go ahead and "like" Facebook. But it may be time to "+1" Google to your portfolio.
Best of StockTwits: Europe continues to be the talk of the investing world. Tweeters weighed in on the latest plan to tackle the neverending debt crisis.
TheArmoTrader: Good morning. Looks like we will never "dip" again to give us a chance to buy. #BTFD
Hilarious. In case you were wondering what the hashtag means, the first two words stand for "Buy The" and the last is "Dip." The third is one that's unprintable here but fans of David Mamet plays should be able to figure it out.
ivanhoff: France, Germany want automatic sanctions on deficits above 3% = the recession i[n[ Europe will continue much longer than expected.
robpas: Esoterically funny that the day the Germans will fix Europe could be pronounced December "nein" since austerity means "no growth"
Well put. People do seem to be overlooking the fact that tackling the debt situation may lead to slow (or no) growth for a while.
Xiphos_Trading: $HUI http://chart.ly/i9adoow The world will wake up to realize this monetary stimulus is going to create massive inflation. $GLD
You may be right. Wait. What's that? Is "Super" Mario Draghi starting up the helicopters in Brussels?
The opinions expressed in this commentary are solely those of Paul R. La Monica. Other than Time Warner, the parent of CNNMoney, and Abbott Laboratories, La Monica does not own positions in any individual stocks.